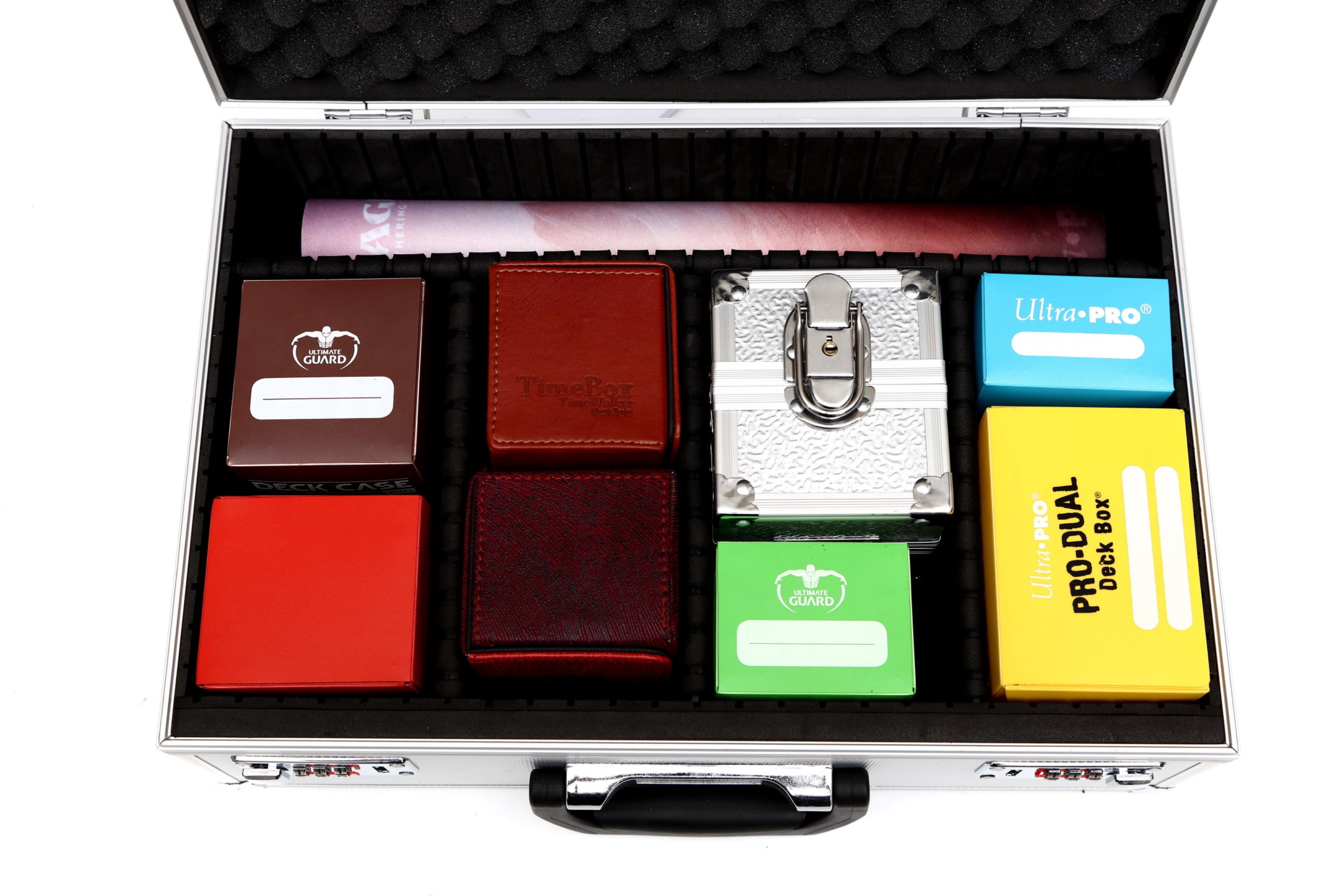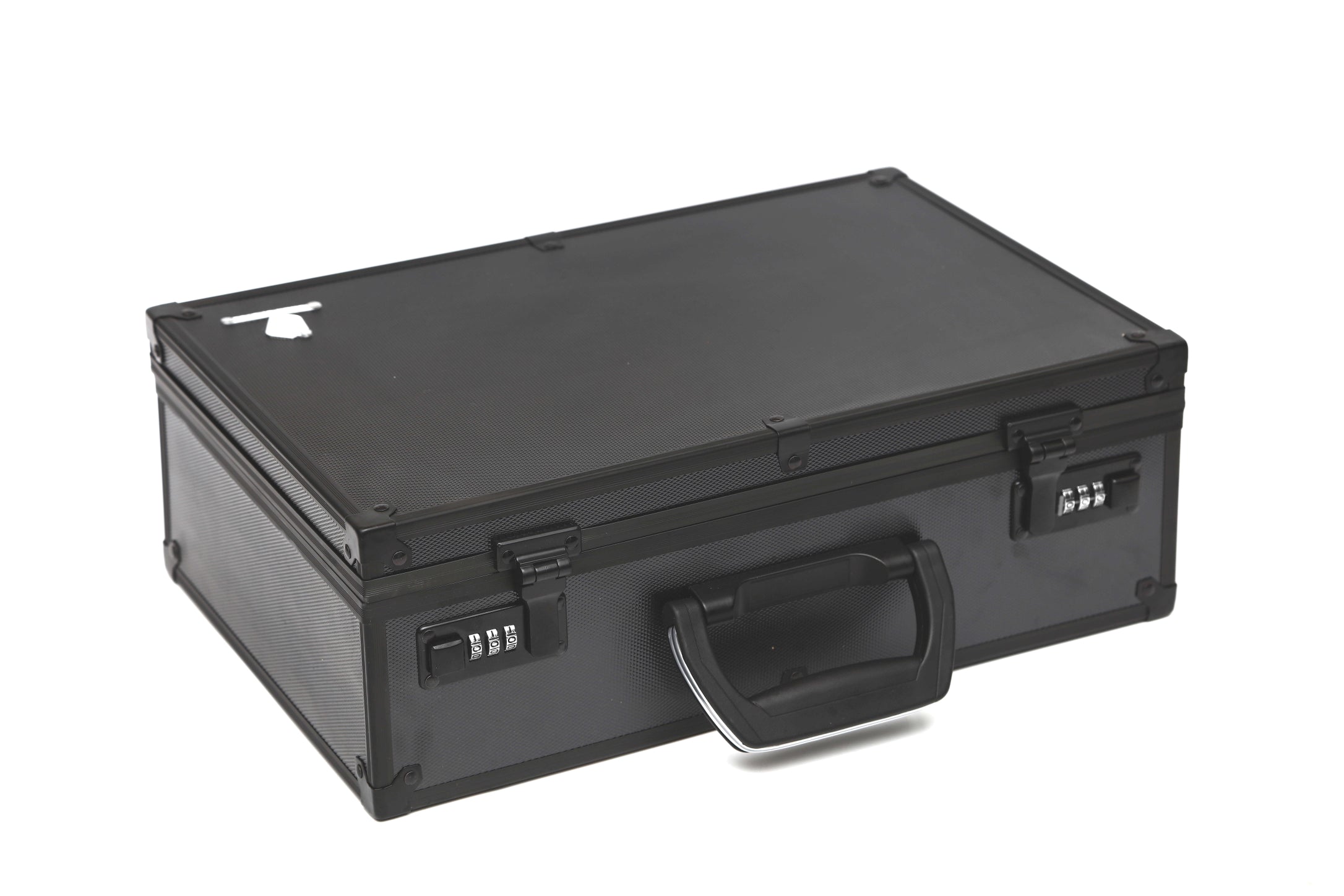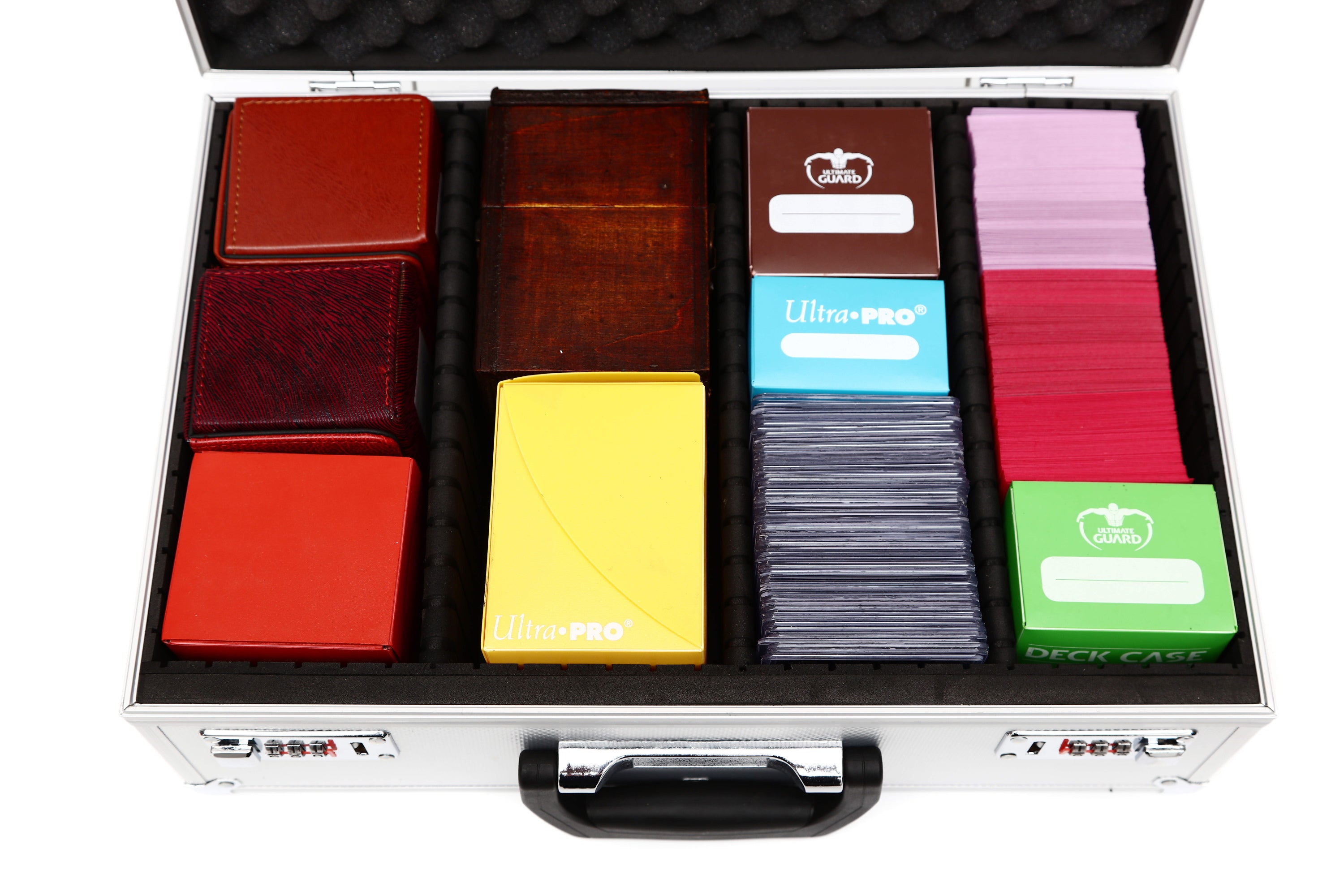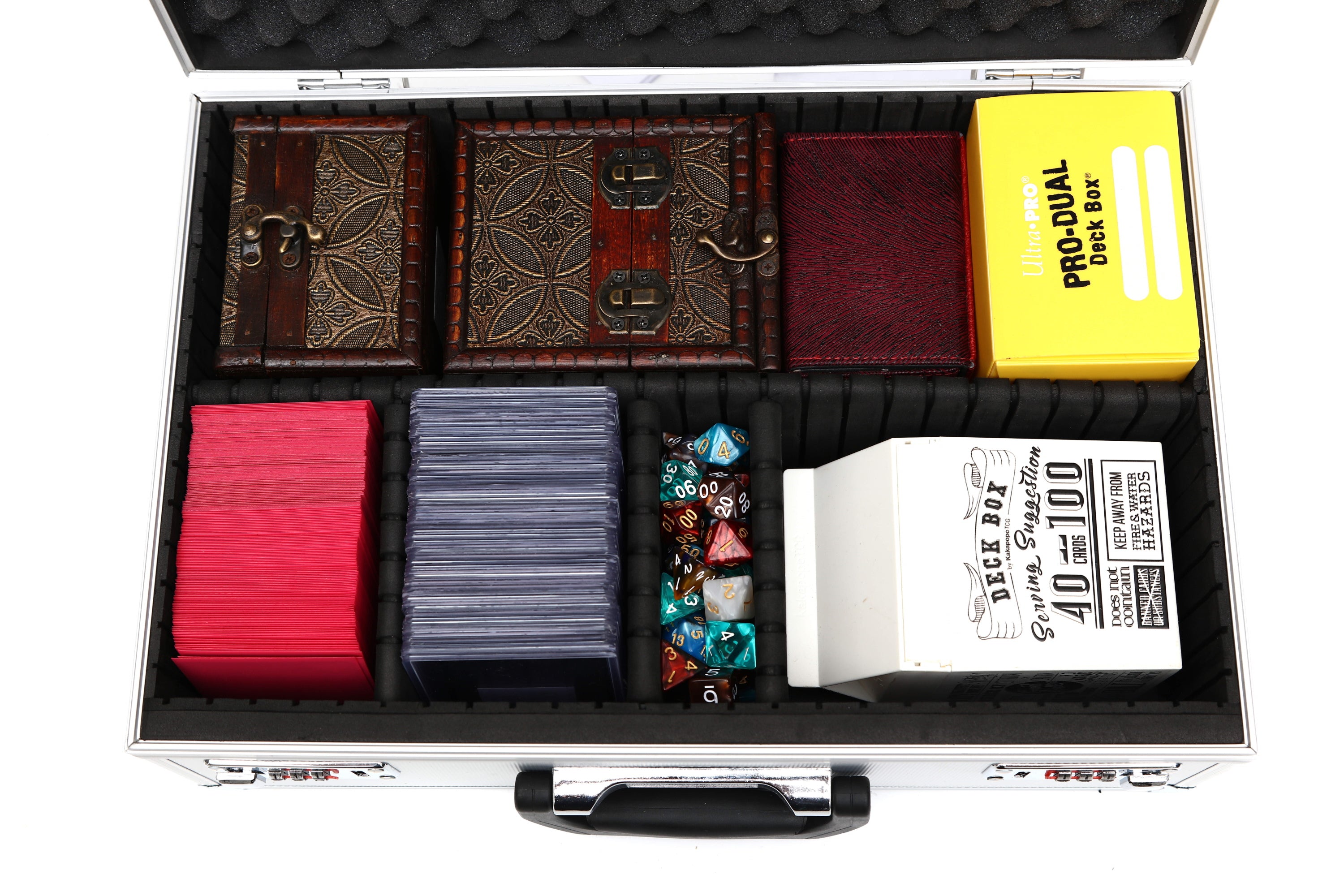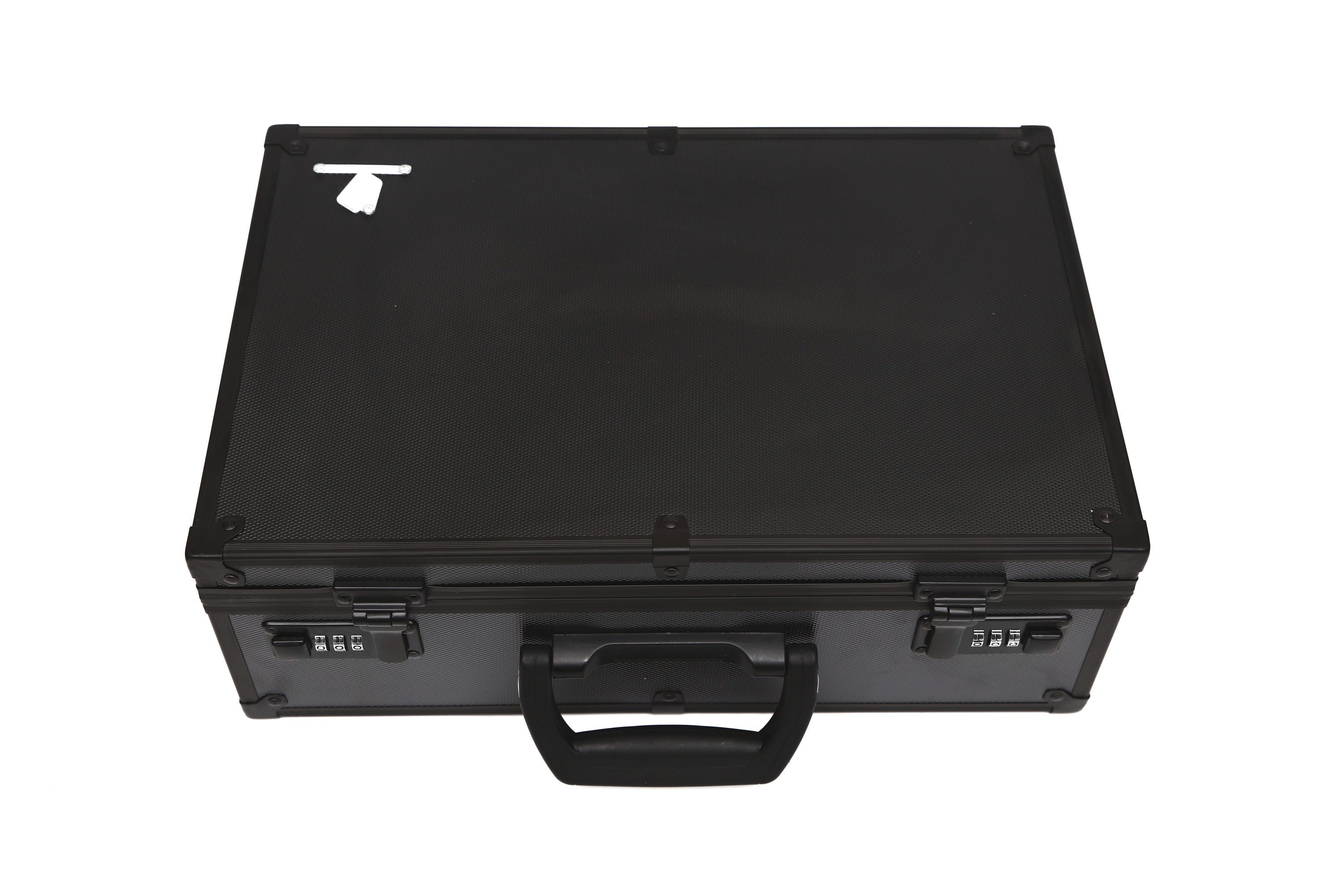 Gaming Briefcase A5 with sliding walls - Black
 Lockable Gaming Case (Model A5 Black) for storing:
Trading Cards,
Deck Boxes,
Sports Cards,
Magic the Gathering Cards,
Yugioh Cards,
Pokemon Cards,
Any other types of TCG, LCG and Board Games.
Features:

12 x Movable sliding walls. (Can be used to arrange the case in different arrangements to store anything you desire.)
18 Index divider cards (Random Colors)
2 Combination locks.
2 x Space filler sponge strips.
Product Details

Interior: 370mm x 235mm x 100mm
Exterior: 390mm x 290mm x 135mm
Fits approximately 2000 UNSLEEVED cards, or 1000 SLEEVED cards.
Black sponge filled case lid for added card protection.
Sliding Wall A - Size: 370mm x 90mm (Quantity = 1)
Sliding Wall B - Size: 260mm x 90mm (Quantity = 1)
Sliding Wall C - Size: 170mm x 90mm (Quantity = 3)
Sliding Wall D - Size: 115mm x 90mm (Quantity = 4)
Current Stock Locations:
Shanghai Workshop (ships to rest of the world)

Shipping
Fast shipping
All orders are processed within 24 hours of order placement. Tracking numbers are usually available after 72 hours via request.
Order tracking
All orders are sent using tracked shipping. But sometimes tracking details are not automatically uploaded on the system.
To obtain the tracking number for your order, please contact us with your order number 72 hours after you've placed your order.
Get in touch
If you have any questions regarding the product or shipping, please feel free to contact us :)
About us
This section doesn't currently include any content. Add content to this section using the sidebar.